Award Winning Ice Cream
Do you want to try a new ice cream flavour? Visit Blyton Ice Cream with your family and friends to enjoy delicious award winning ice creams.
Our Flavours
Contact Us
Open For Eat-in, Takeaway and Delivery in Blyton.
Hot food available, Ice Cream, Milkshakes, Waffles, Crepes and Ice Cream Sundaes Available
'We are a family run, Award Winning dairy ice cream parlour since 1985! We offer over 65 homemade flavours all still made on the original farm site. Our speciality is creating ice cream treats! From waffles to crepes to traditional sundaes we offer a huge range of unique and delicious ice creams and desserts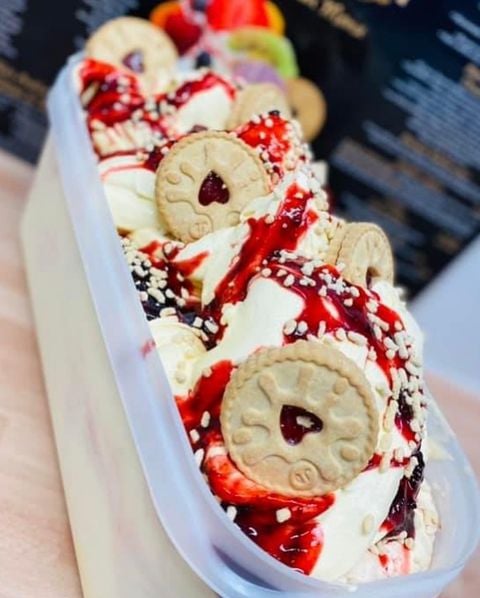 Enjoy our incredible range of ice creams
We are a family-run business with over 30 years of experience in providing tasty ice creams for customers in Blyton. We are well-known for our 'classic vanilla ice cream' and have over 70 flavours made with high-quality Italian ingredients. Visit Blyton Ice Cream today to taste your favourite ice cream in our spacious and comfortable parlour.
Try our daily specials
Do you love ice cream? Our daily specials come with different flavours and toppings each day. You can relax and spend time in our ice cream parlour to enjoy our daily specials or sit in our spacious outdoor seating area and have a coffee with light snacks. Visit us today to find out more about our tempting range of delightful ice creams.
Why visit our ice cream parlour?
Over 70 flavours of ice cream
Hot and cold drinks as well as delicious food
Party bookings available
Outdoor play area and crazy golf for kids
We also offer wholesale and distribution of ice creams.
Fresh and tasty ice creams
Blyton Ice Cream is committed to providing delicious ice creams. We make all our ice creams at Blytons' Old Hall Farm and have won a number of national awards for our sorbets and real dairy ice creams. We are members of the Taste of Lincolnshire and have also obtained the 5 Star Food Hygiene Rating.
Barry Riddle
"Possibly the best ice cream I've tasted, also the cafe is brilliant, an excellent place to visit any time of the year, will regret if do not visit"
Lesley Douglas
"Blyton ice cream is a taste sensation and easily the best ice cream I have ever had. And I keep going back for more, especially when we have visitors from overseas."
Clare Louise Fairburn
"We treated my Mum and her partner to ice cream sundaes on Sunday. Absolutely gorgeous and huge!! Well worth the money and great service."
Nikki Hunt
"Beautiful as always, fast service and friendly staff. Ice cream flavours never disappoint. Highly recommend."